BY JOHN HOUANIHAU
FRANK PORAU an Ontong Javanese said they have been using a plant to treat COVID19 symptoms or influenza- like disease.
Mr Porau, a teacher said they have been using the plant as a medicine to cure Flu for quite sometime now.
In Lord Howe, the plant is known as Kelungasu.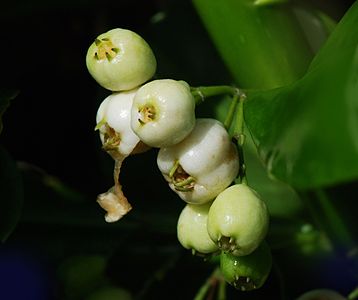 In the Southern region of Malaita it is called Ainipepe, in Ugi Makira it is called Palaingsau, in West Hograno, Isabel province it known as Gighilacho, in Are'are it is called Tarahepe.
According to Mr. Porau, they have been using the plant as medicine for long time now.
"We also use the plant to treat people that have signs of COVID-19 and other related sicknesses."
He said that the leaves are chopped into pieces and squeeze in to a cup where a person if sick can take 3 cups per day for 3 days.
Elenoa Ulakia from Ontong Java now lived in Fiji also encouraged her Mother in Ontong Java to use the remedy when she first heard of the COVID-19 in the country.
She said most Fijian who take the herbal medicine when they have the virus had gotten better and often recovered.
The plant is scientifically called Scaevola taccada according to the World Journal of Pharmaceutical Research Department of Pharmacognosy, Sanjivani College of Pharmaceutical Education and Research, Kopargaon.
Scaevola taccada typically grows on the beaches within in the salt spray area. It prefers well drained sandy soils and is a very salt tolerant plant. It can grow to a small tree 3-10m tall.
Sometimes it is found in loose plant communities with coconut palms, several pandanus species.
Botanist Isaac Henry Burkill said medical uses includes the bitter leaves in indigestion, pith for diarrhoea, poultice of leaves for headaches and on swollen legs, juice of berries for sore eyes.
The liquid from the leaves relive discomfort of gas in the digestive system, reduce heat (high temperature) in the body, cures coughs, tuberculosis and stings from the stingray.
It is also used to treat weakness after childbirth which leads to pneumonia.
The roots are used to treat stomach ache, beri-beri, syphilis and dysentery while the juice from the bark is used in treating ringworm.
The drug reduces the frequency of heart beat, slow down the pulse rate and stimulates the heart for normal contraction.
Traditionally in Hawaii and the Pacific Islands, the pleasingly fragrant flowers as well as the seeds of S. taccada are used for making traditional garlands.