BY JOHN HOUANHAU
MORE people from Savo Island are now moving to Ngella Island and Honiara due to fear of volcano eruption concerns on the Island.
This was confirmed by John Deleme from Monala village to Environment Media Solomon Islands in an exclusive interview at the yacht club area in Honiara this week.
"Yes that is true, some people start to evacuate to the big islands, many to Guadalcanal whilst others to Ngella Island, 'said Mr. Deleme.
According to the Elder, various schools in Savo have also come up with their preparedness and responsive plans whilst continuing with their schooling.
"Schools have come up with their timetable as of the second week of this month to relook at their weekly schedules.
"What I understand is, for Kindergartens they will attend class from 8 am-9 am each day, grade 1-6 starts classes at 8 am and ends at 10 am, while for secondary level classes completed by 1 pm each day,'' said Deleme.
He confirmed that a joint team from the government's responsible authorities have visited the Island recently and are monitoring the situation.
"They encouraged us to temporarily leave for a safer place or to relatives in Honiara or Ngela,'' he said.
When asked about the proposed site in which people of Savo can be evacuated in the event of an eruption on the Island, he said the government through its responsible authorities is yet to identify a proposed site.
"That was also our question, however, I have heard that the government and its responsible authorities are proposing a location at the Guadalcanal plains as a site to be used by the people of Savo Islands if there's an eruption,'' he said.
In the meantime, Deleme said that they are working closely with the relevant authorities and rely heavily on their prompt response to the issue for their safety and precautionary measures.
The Government through the Seismology Unit of the Geological Survey Division (GSD) of the Ministry of Mines, Energy and Rural Electrification (MMERE), and the National Emergency Operations Centre (NEOC) at the National Disaster Management Office (NDMO) are closely, and continuously monitoring the ongoing volcanic activities on Savo Island using real-time data from the seismic station located on the crater of the Volcano.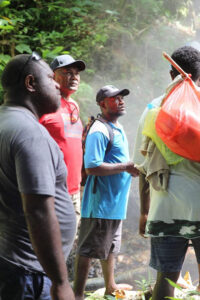 A statement by GSD and NEOC recently confirmed a joint technical assessment team from GSD and NDMO deployment to Savo to conduct a rapid assessment and verify the reported observations by the communities.
It is understood that from recorded history and traditional accounts, the Savo Volcano has been known to be active from the late 1400s, 1500s and the last eruption occurred between 1830–1845 with past and recent scientific studies determined that the Savo Volcano could become active again after 200 – 300 years of being dormant.