BY JOHN HOUANIHAU
THOUSANDS of villagers at the Kolombangara Island in the Western province are set to benefit from the KIWA "WISH+" project to help tackle climate change through better forest and water management.
The KIWI Watershed Interventions for Systems Health Plus (WISH+) project initiative was announced on 25 October 2022 at the Western provincial headquarter in Gizo by Wildlife Conservation Society (WCS) Melanesia Regional Director Dr. Stacy Jupiter after they convened a stakeholder meeting with Kolombangara Island Biodiversity Conservation Association (KIBCA), including the tribal elders and members of the Kolombangara Council of Chiefs.
Dr. Stacy said the meeting introduced the scope of the KIWA WISH+ project, which will include specific activities on Kolombangara that complement the ongoing work to establish protected areas. These activities include:
Raising awareness of climate-sensitive water and health issues associated with environmental change
Undertaking water and sanitation safety planning with local communities to identify priority risks to be managed
Implementing priority Nature-Based Solutions, including restoration around waterways/water sources and soil conservation measures and
Implementing other activities to reduce disease risk, including livestock management and improvements to water and sanitation systems.
She said at the meeting, we also presented a history of engagement on Kolombangara, working closely with KIBCA to improve awareness about the need for sound environmental management, and preparations to date on protected area submissions.
Dr. Stacy said the KIWA "WISH+" project imitative is a multi-donor program that aims to build resilience to climate change in Pacific Island ecosystems, communities, and economies through Nature-Based Solutions (NBS), protecting, sustainably managing, and restoring biodiversity.
"The project will directly benefit approximately 1,000 residents of Kolombangara, with thousands more standing to benefit from improved knowledge on how to undertake integrated watershed management to deliver health benefits to people and ecosystems in the Solomon Islands and across Melanesia.
"The KIWA WISH+ project will be implemented in the Southwest of Kolombangara were landowners from the Kolbangara-Babatana, Lolobo, Voko, Zorutu-Viuru, Kiuai-Viuru, and Kolombangara-Madeatungu have already been working closely with Kolombangara Island Biodiversity Conservation Association (KIBCA) to develop proposals to establish forest protected areas on their land, through support from the Rainforest Trust.
"Specific project communities are presently being identified for the KIWA WISH+ project, with field implementation activities expected to begin in early 2023.
"The project will run through June 2026, with project sites in the Solomon Islands on Kolombangara Island, where tribal landowning groups are already working towards establishing upstream forest protected areas," she said.
The overall objective of the KIWA Initiative is to strengthen the resilience of Pacific Island ecosystems, economies, and communities to the effects of climate change.
She said the full budget for the project that will be implemented across Fiji, Solomon Islands, and Papua New Guinea is EUR4.8M.
"As noted above, the funders to the KIWA Initiative are the European Union, Agence Française de Development, Global Affairs Canada, Australian Government Department of Foreign Affairs and Trade (DFAT) and New Zealand Ministry of Foreign Affairs and Trade (MFAT)," Dr. Stacy said.
She said the project team will also design tools to help design and finance portfolios of watershed interventions that optimize co-benefits for biodiversity, climate, and human well-being which can be scaled across the country.
She said when Nature-Based Solutions like upstream forest protection, forest restoration, and stream bank stabilization are combined, they will improve access to clean water and improvements to sanitation and also provide co-benefits for human well-being, biodiversity conservation, and climate resilience.
"Through KIWA WISH+, WCS and partners are taking an action-oriented approach seeking to transform on how health is conceptualized on high island systems.
"Recognizing that there are common drivers associated with water-related disease risk in coastal human populations and impacts to downstream ecosystems, the project team will work with local communities and government at sites across the Solomon Islands, Fiji, and Papua New Guinea to implement holistic integrated watershed management that couples Nature-based Solutions with improvements to water and sanitation to improve overall health,'' said Jupiter.
"The Nature-Based Solutions defines as, actions to protect, sustainably manage, and restore natural or modified ecosystems that address societal challenges effectively and adaptively, simultaneously providing human well-being and biodiversity benefits," Dr. Stacy said.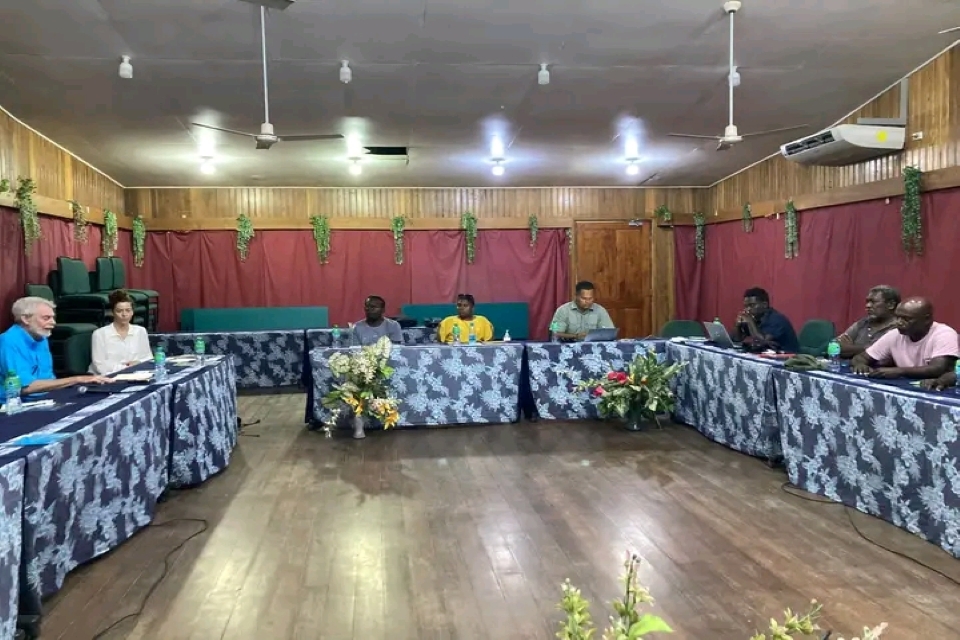 Dr Jupiter added that the KIWA Initiative is based on easier access to funding for climate adaptation and NBS for local and national authorities, civil society, and regional organizations of Pacific Island Countries and Territories, including the three French overseas territories.
She said the KIWA Initiative has established partnerships with the Pacific Community (SPC), the Secretariat of the Pacific Regional Environment Programme (SPREP), and the regional office of the International Union for Conservation of Nature (IUCN).
"It is a regional program of activities led by WCS, with key partners that include the University of Sydney, the University of Queensland, and the Kolombangara Island Biodiversity Conservation Association (KIBCA).
"The Wildlife Conservation Society (WCS), originally established in the United States in 1895 as the New York Zoological Society, is a private, non-profit conservation organization that saves wildlife and wild places worldwide through science, conservation action, education, and inspiring people to value nature.
"WCS formalized our Solomon Islands program in 2018.
"In Solomon Islands, WCS's goal is that, from ridges to reefs and highlands to islands, we will ensure that ecosystems and species are managed sustainably for enduring well-being and conservation,'' said Dr. Jupiter.