BY JOHN HOUANIHAU
THE pavement overlay and reconstruction work on the existing surface of the Munda international airport runway on New Georgia Island, Western Province is making positive progress, according to China Harbour Engineering Company's Environmental Supervisor, Arnold Clive.
In an interview with ENVIRONMENT MEDIA, Arnold Clive said the current work which is projected to complete in August 2023 is making progress to rehabilitate and strengthen the existing pavement (surface condition) on the Munda airport runway and terminal that is suitable to serve heavier airplanes than those for which the pavement was originally designed.
The China Harbour Engineering Company's (CHEC) Environmental Supervisor added the current work under the Munda Airport project including the new terminal building and international airport runway overlay.
As part of the Munda Airport construction project, the work is to resurface the pavement life of the international airport runway and the new terminal building.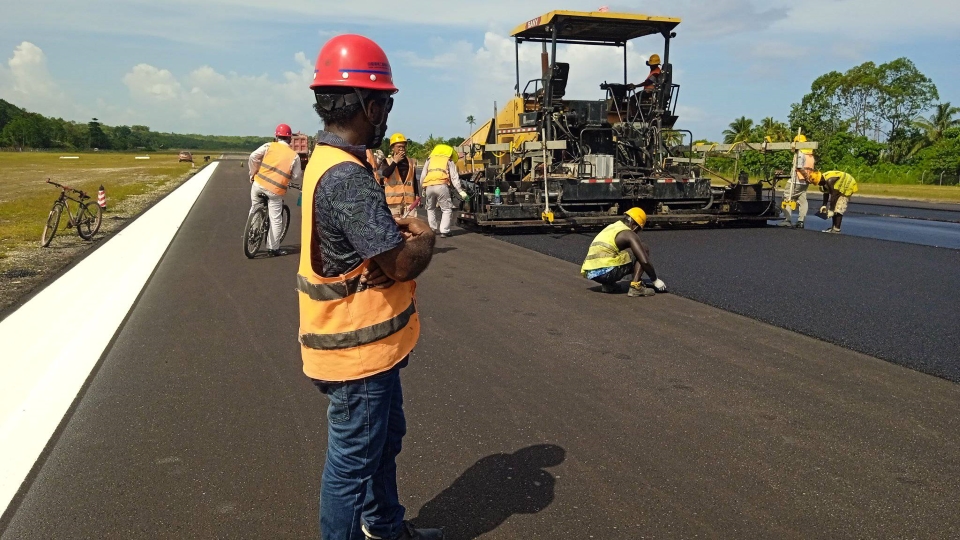 "The proposed upgrading works of the Munda Airport under the Environmental and Social Management Plan (CESMP) covers the following activities:
Existing runway, taxiway, and apron asphalt concrete pavement overlay.
Reinstatement of visual aids on the runway, taxiway, and apron.
Reinstatement and testing of airport lights including threshold and ground lights.
Upgrade, maintenance, and extension of airport culverts.
Replace public access gates with self-closing gates.
He said that the first half of the 920 meters runway has already been completed since work had started, however, after completing the first phase the work, we will move to the next 720 meters, after that, work will proceed to the apron in front of the new terminal.
"Materials have just arrived for the second phase, temporary shade for passengers had already been set up. Threshold lights on the completed runway also progressing, even drawing of lines and runway markers for plane also on-going," Arnold Clive said.
The other component of the project is to overlay the existing Munda airport runway, the apron parking areas, and the taxiway to 50mm with asphalt material that will add to the safety and durability of pavement life to support aircraft operation at the airport. CHEC has been awarded to implement this component worth approximately USD 15 million.
The international flights to Munda are expected to resume when the new terminal completes around August 2023.