BY JOHN HOUANIHAU
MRS. Melinda Tombakelu who resides at Mount Austin, Guadalcanal Province is venturing into planting and farming grapes.
Without much experience with planting grapes in the Solomon Islands, Mrs. Tombakelu is working around the clock on all possible means on how she can succeed in her project.
At the moment, she currently has 12 bunches of Grapes that bear fruits after planting some vines almost 15 years ago.
Mrs. Tombakelu's affection to grow grapes did not come as a full-time hobby in the first place when her eyes sighted the crop at one of her Aunt's house at Borderline.
"She planted it along her fence. It wasn't that healthy at borderline. So I asked for some vines for me to plant here at Mt Austen and she gave me some,'' she said.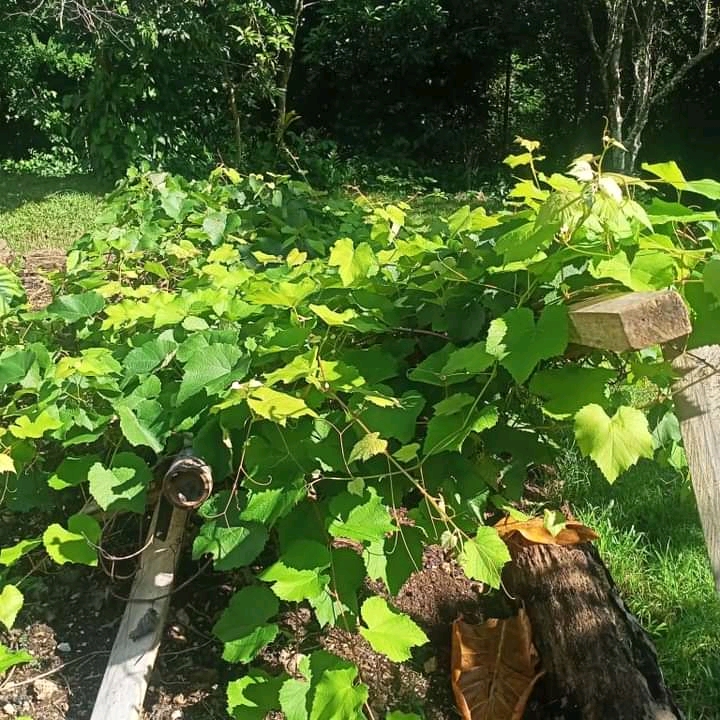 She added that this year she build a frame for them to grow so that she can do pruning properly and easily.
For Mrs. Tombakelu what comes behind her mind was to only give it a try after she planted several grapes veins she took.
"Only one vine survived and have fruits at that time. Currently, I have 12 bunches,'' she said.
She noted that according to her own research, the crop thrives healthily at Mt Austin compared to borderline.
"One of my challenges was how the crop can be managed.
"I need to research more about grapes how it grows, how to care for them, the type of right conditions and etc…,' she said.
"But one thing for sure is, the vines didn't die here, the ground is favourable," Mrs. Tombakelu confirmed.
Meanwhile, a statement from the Ministry of Agriculture and live stock's Research department stated that so far no plans have been set in place for grapes in the country.
"Some individuals come to us with photos of what they have planted but for sure this is news for us and as far as we are concerned no plans are yet in place.
"Hopefully we will look at what we can do like provide training or find alternatives on how we can provide the best possible solution,'' a spokeswoman said.
According to a report by Melissa Groves, eating a diet rich in fruits like grapes may reduce your risk of, heart attack, stroke, diabetes, cancer obesity, eye problems, and other health conditions.
Mrs. Groves who completed her BS in Nutrition/Dietetics and Dietetic Internship at the University of New Hampshire, stated in her research that fruits rich in antioxidants, like Concord grape juice, help reduce oxidative stress that leads to aging while in studies, this reduction increased verbal memory performance and motor function.
Based on her research, grapes are grown in temperate climates across the world, including Southern Europe, Africa, Australia, and North, and South America.