BY JOHN HOUANIHAU
THERE is an increasing trend of collection and preservation of pest insects in the Solomon Islands by the Research Division of the Ministry of Agriculture and Livestock over the years.
According to the Ministry of Agriculture and Livestock (MAL), Research Division officer, Maria Gharuka, it is the role of the Division to archive and preserved them for identification purposes.
"We are trying to collect every different type of pest that posed a threat and destroys our various crops in the Solomon Islands. We preserved and keep them for identification purposes as well as research programs.
"It is also important because this is where we can identify new pests or insects from farmers that can cause a threat to their crops.
"These pests or insects can badly affect agriculture and can have a tremendous economic and social impact on the country,'' Maria told ENVIRONMENT MEDIA.
She said most insects and pests preserved were found on corn, sugar canes, cassava, snake bean, potatoes, taro, coconut, melon, slippery cabbage, eggplants, etc.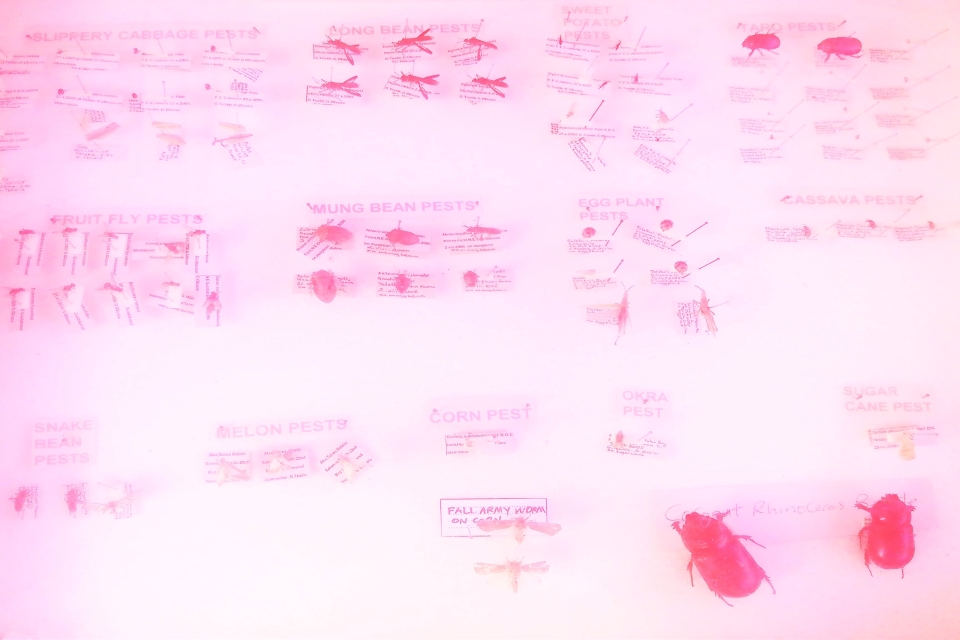 She added that most reserved ones here are adults because it is easy to collect and handle. Lately, we haven't conducted any new pest collections since the early years of 2000.
"Most of the preserved pests or insects here were collected at the Dodo creek land and research facility in the year 2000.
"Some insects or pests are very small that cannot be seen with the naked eye and only dealt with it special skills and equipment to identify kill, handle and collect them for preservation.
"To treat the pest or inserts from damaging the crops, a lot of people in Honiara and Guadalcanal always purchased chemicals from shops in Honiara, mainly Farmset and Island Enterprise and other shops in town," Maria said.
Meanwhile, she called on rural farmers to work closely with the Ministry to prevent a possible threat to crops by reporting to the ministry any citing of insects or pests in their gardens or small-scale farm.
"Farmers must come and seek help from the Agricultures officers stationed nearby to their communities or place of residence so that our officers can go out to their farmers and help them.
"Like at the provincial level, we have the extension officers where people or farmers can go and report to them and can reach us thru communications.
"For the Past years, the MAL through its Research Division have collaborated with Biosecurity Solomon Islands, together with Australian and New Zealand experts in the effort to ensure that local root crops are protected," she said.