BY JOHN HOUANIHAU
WEARING face masks is recommended as part of health and personal protective equipment to prevent the spread of coronavirus disease.
Mrs Tomos Opaniira is a former employee of M & J enterprise which produces reusable pads ( calico Stayfree) for girls and women.
The mother of two started sewing face masks in 2020 when she joins ventured with M & J enterprise when the COVID19 outbreak first started in 2019.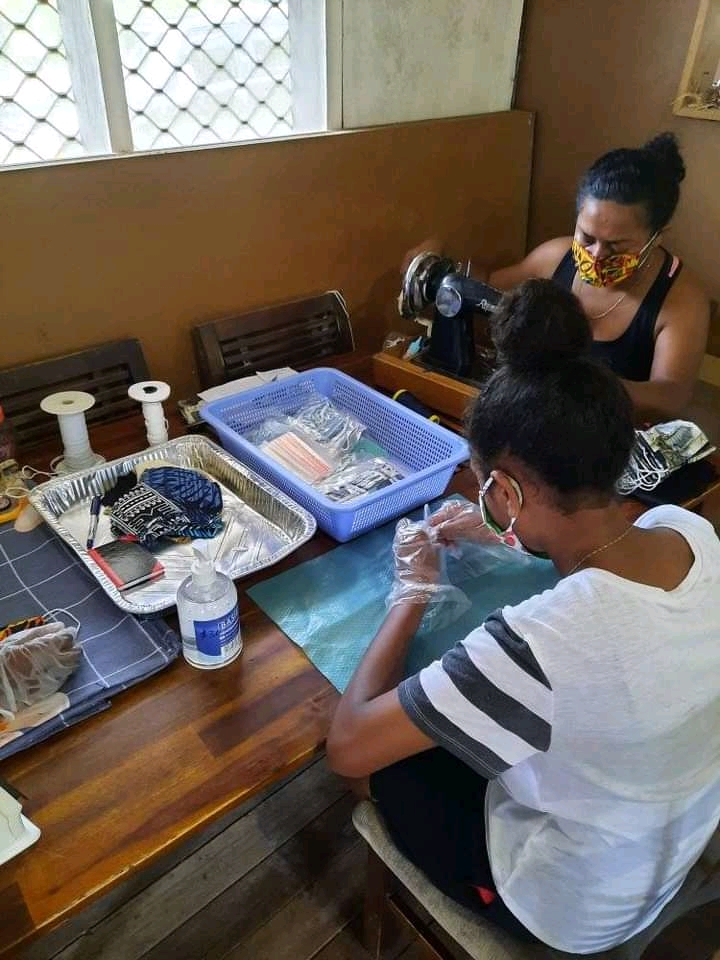 Speaking on behalf of his wife, Getsinger Opaniira, Tomos husband said the he idea to start the face mask business emerged in 2020 after Tomo with M&J enterprise who produces reusable pads ( calico Stayfree) for rural women and girls.
"After COVID broke out in 2019 and was declared a pandemic by the World Health Organization, the idea of making mask eventuate and due to high demand, some of the sewings is outsourced to former employees to produce mask orders from clients," he said.
" For now she is no longer with M & J enterprise and she is venturing into her own business producing face masks," He said.
Mr Opaniira said the production was basically for family members and only done during free times in the first place.
However, due to the spike in the current COVID-19 community transmission, her two daughters, Romana (elder) and Shamillar (younger daughter) are now helping their mother in making face masks.
"Due to the current community transmission and with more demands from families and friends, they are looking for more time to produce more face masks," said Mr Opaniira.
He said that of their observation, people prefer reusable sewn masks to the ones sold at the shops in and around Honiara because it is cheaper and can be used for a longer period.
"The Challenge faced is having proper sewing equipment and materials for fast production as well as enough capital to ensure sustainability.
Residing at Namoruka at White River West Honiara Miss Romona and her younger sister Miss Shamillar with their mother can produce 50 mask per day.
"Production per day is 50 with manual sewing machine.If they use an electrical sewing machine, then it could be better, meaning they can produce more" he told Women's paper.
"The current face masks in stock is for orders only and there is still no available stock at the moment to satisfy the expected high demand during the current situation," said their Father.
They sell $20 per mask for adults and $10 per mask for kids.
"We did sales from our house as well as deliveries of orders to distance location in the City," he said.
Wearing face mask is one of a mandatory COVID-19 measures is emphasised on countless time by the health authorities since when the contagious virus broke out in the communities more than a month ago to prevent the it from further spreading.