Former Police Bomb Disposal Expert Sets Up Business
BY JOHN HOUANIHAU
AN ex-Police Staff Sergeant and Bomb Disposal Expert, Michael Barry Makaraiara, who served in the Royal Solomon Islands Police Force and Explosive Ordnance Disposal Unit for more than 25 years formed 'SAFE SIGNALS' after leaving the police.
Hailed from Makira Ulawa Province, Makaraiara earned his qualification from the School of Military Engineering under the Mobile Training Team from Australia and International Mine Action Standard (IMAS) qualification from Projects funded by the US Department of State and Department of Defense as Unexploded Ordnance (UXOs) Underwater Operator and Land UXO Operator.
He had previously undergone two Explosive Ordnance Disposal (EOD) Regional Deployments to his service as an EOD Team Leader in Nauru in 2008 and as a Contingent Commander in Torokina, Bougainville RENDER SAFE 14.
Michael started 'SAFE SIGNALS' as a local Business Firm in November 2018.
Now as an Owner and Manager of the company, his business deals with Survey and Clearance of Unexploded Ordnance, and Explosive Remnants of War (ERW) on land and underwater.
Michael told Environment Media that his idea to start the business 'SAFE SIGNALS' is because of his qualification and expertise to address the risk associated with UXO, and ERW hazards in the country.\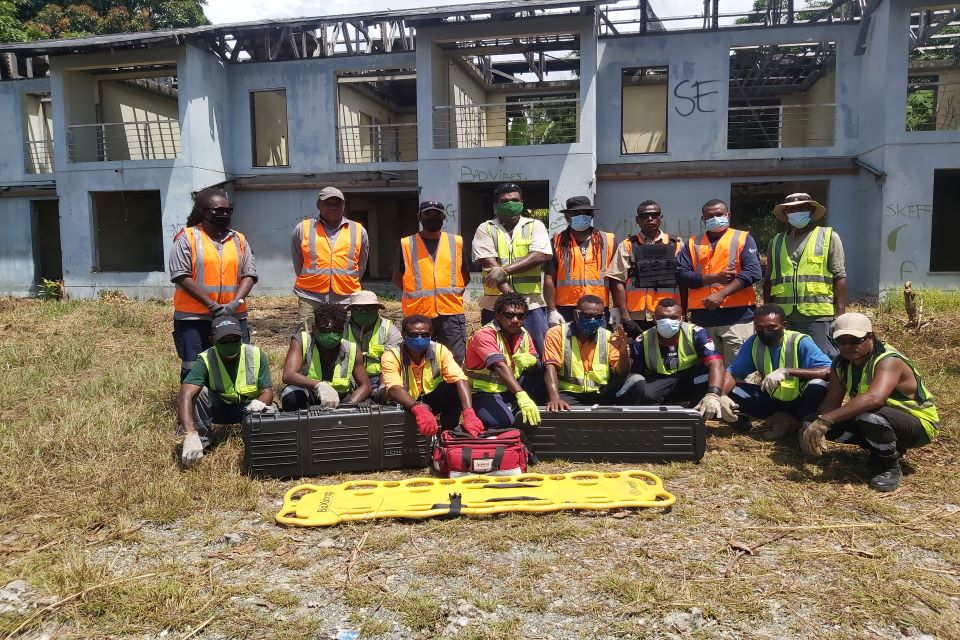 "What motivated me is the qualification. I am qualified to do the work. We all know that our place is contaminated with Explosive Remnants of War so we need someone to do the work apart from RSIPF, but where is that somebody.
"That's what encourages me to quit my previous job and do the business. Most importantly it is a matter of how we live and help people from the dangers of UXOs," he said.
He also clarified that since (at the moment) the RSIPF EOD Unit is not involved in Commercial Clearance, I have decided to step out and help the government, its employees, and donors when proposing major developments in the country.
He said they were also armed with the latest technologies for UXOs and other Remnants of War on Land and Underwater at the depth of 8 meters.
"We have the latest machines. Our latest version at the moment is FEREX 4.035 from Foerster, Germany, and SBL10 from SENSYS, Germany.
"The detectors not only detect bombs but can detect metals and any other minerals as well. Our job is to dig, assess, and confirmed whether the object is a UXOs, bomb, or just a metal where we have to unearth it and clear the area
"After that, I will provide what is called QC (Internal Quality Control) and QA (Quality Assurance) Completion Report to furnish the clients, pass the site, and handed over to the developer," he added.
Michael Barry once held a senior post within the Royal Solomon Islands Police Force during his time the Force apart from his leadership within RSIPF EOD Unit.
He served as a senior Shift Supervisor, Supervisor Fleet Management, Senior Supervisor of Security and Asset Management, Supervising Director of Police Logistics, and many leading roles within RSIPF Administrations and Field Operations.