BY JOHN HOUANIHAU
AT a time when the majority of youth dropouts in the Solomon Islands are busy chasing seasonal employment opportunities and other ways to earn a living, a teenager from Marovo Lagoon in the Western province has not only embraced farming but works hard to put himself through formal education.
Nowadays, it's quite hard to find youths hustling their way with just the soil to toil and sheer hard work to ensure they have a future through formal education – something quite rare in the country.
But for 19-year-old Tan Koa Kuan growing up in the rural setting of Sobiro Village was not just a blessing but a struggle for him, over the years he decided that the only way he can support himself to attain formal education is through taro farming, and he must be committed to it.
The Taro farm is located next to the Sir Jacob Vouza Memorial School in East Guadalcanal.
Tan Koa Kuan's father is a Chinese man and he was raised by her mother from Marovo Lagoon, Western province. Kuan's father left him and her mother back to his country of origin whilst he was very young, however, thanks to his close relatives and grandparents who managed to support his education endeavor from kindergarten to primary at Sobiro primary school, Marovo Lagoon. He later attained forms 1 to 2 at the Betikama Adventist College.
For now, Kuan is in form five (5) at the Sir Jacob Vouza Memorial School in East Guadalcanal and has been housed under the care and supervision of his uncle, Alphy Wale.
His uncle has been taking good care of him since 2001 until now.
Like any other struggling family in the country, Alphy Wale is also faced with financial challenges especially to support the demands of his family and to ensure their immediate needs are met on the daily basis.
"Tan Koa Kuan is my nephew. I have deep respect for him as a young and energetic teenager. Now he is in the final year of form five, and I am proud that he is always passionate about earning and saving money from farming, and more especially his future.
"Young Kuan was adopted by his grandparents after her mother remarried, but since they can no longer afford his fees, I decided to take care of him.
"I am proud of his personality, character, and attitude towards life.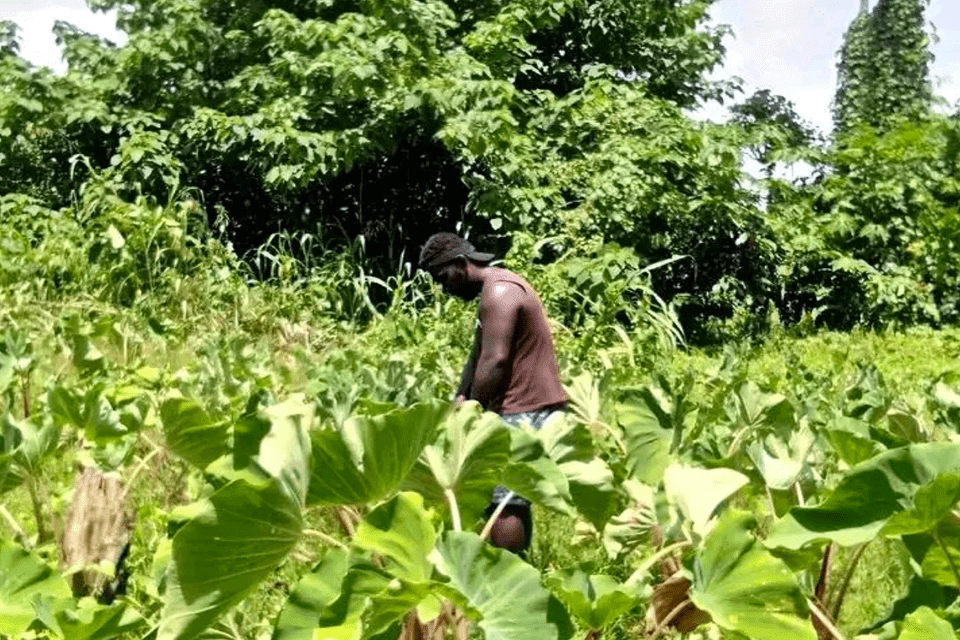 "I always told him not to give up, life is about struggling and staying positive. Most times I often advise him that life is all about facing real challenges – if anybody can start from scratch and become somebody important in their society, then you can do it.
"I believe that my words of encouragement triggered her vision and passion for farming taro and other crops.
"I am always proud to watch my nephew farm cash crops, earn money and attend school, knowing that it is because of his sweat and hard work," Alphy Wale told ENVIRONMENT MEDIA.
It's more than three years of taro farming for Wale and his nephew (Tan Koa Kuan), and they are making every effort count. Their farm has been producing more than a thousand so-called 'Corn Beef Taro'.
They would often take trips to the market and sell the taro produce at the Honiara Central Market at prices ranging from $5 to $15. However, most times they received orders and sell to interested individuals and institutions like the Solomon Islands National University (SINU) at the following prices – $130 per 10kg bag and $140 per 20kg.
After all, Kuan's number one aim is to save whatever money is made for school fees.
Kuan already planted more than 4000 new batches of taro last year and hopes to harvest and sell his produce at the market in the following months of March, April, May, and June of this year.